Collagen is like the scaffolding that keeps your skin firm and wrinkle-free. As you age, you lose about 1% of the collagen in your skin. Our experts packed this kit full of potent anti-aging products that will help to jumpstart your skin's collagen production, defend it from damaging UV rays (the leading cause of wrinkles), and increase cell turnover rate to keep your skin looking younger for longer.
"
Expert Take
The products in this kit will help to erase existing wrinkles and prevent future wrinkles from forming.
Yvette | Skincare Expert
We've got your back (and your face). Book a virtual consultation and an actual men's skincare expert will send product recommendations straight to your inbox.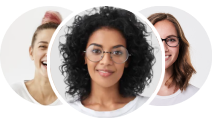 START YOUR FREE CONSULTATION